How to choose the perfect fireplace for Christmas, as you can see here at Fireplace Studios Brighouse we offer a wide variety of fires that are all still available to be fitted in time for Christmas. We cover all styles and types of the perfect fireplace to suit your tastes. Whether you are looking for gas or electric we have over 120 fires and fireplaces to choose from.
It's pretty much a guarantee that we will have the perfect fireplace for you and your home. We are authorised and stock the largest and most popular suppliers in the industry including Michael Miller, Bellfires and Elgin and Hall. So if you're wanting a stunningly warm and idyllic fireplace, for all your family to gather around while opening presents and sharing precious memories, contact Fireplace Studios Brighouse today.
We recommend one of our stunningly beautiful bellfires to ensure you get the perfect fireplace. If you are wanting a gas fire, our personal favourite is the classic bell, it comes in two different sizes small and medium. With its premium burner and 8kw heat output it's sure to be the talking point for your family and friends. It has a stunning red brick interior that complements the warm flames perfectly. It is one of the most eye-catching gas fires in our showroom and is situated at the front of our showroom.
If you're looking for an electric fire, another of our favourites is the Evonic 3 sided fire. Team this with a log stow compartment and you will create a vocal point in any room. With its LED evo flames, it has the most realistic flames of any electric fire on the the market and could easily be your perfect fireplace. It comes in two different sizes 1000mm and 1500mm wide and is the perfect modern feature to fit any room in the house.
If you're looking for the perfect fireplace this Christmas, come and visit our stunning showroom and have a chat with our friendly team. Don't leave it too late though as we only have a few more dates available now to fit your perfect fireplace before Christmas.
[border ] [two_third class="" last="no" ]Contact our friendly team below to discuss how to choose your perfect fireplace: [contact_form name="contact" ] [/two_third] [one_third class="" last="yes" ]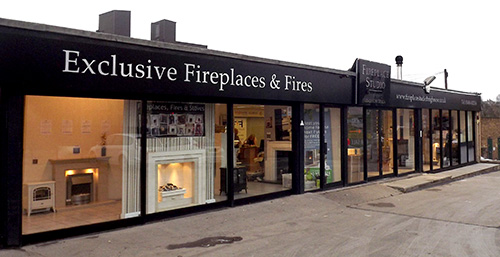 Fireplace Studio Brighouse
Old Crowtrees Garage,
Huddersfield Road,
Brighouse,
HD6 1JZ
T: 01484 402336
[social href="https://twitter.com/disc_fireplaces" title="Twitter" type="twitter" icon_type="fade" size="" target="_blank" ] [social href="https://www.facebook.com/discountfireplaces" title="Facebook" type="facebook" icon_type="fade" size="" target="_blank" ] [social href="https://www.youtube.com/channel/UCEIw1m3_7fEWGOQe3CYw8LA" title="YouTube" type="youtube" icon_type="fade" size="" target="_blank" ] [social href="https://plus.google.com/u/0/107460591991487227517/about" title="" type="google" icon_type="fade" size="" target="_blank" ] [/one_third]