Your Michael Miller Fires: Ripon homes are being treated to style and warmth
Here we explore just what makes The Collection by Michael Miller a cut above the rest.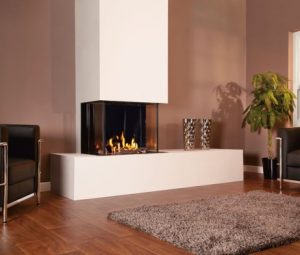 Highly efficient
Cutting-edge advances in gas fire technology have enabled Michael Miller fires to produce some of the most fuel-efficient gas fires on the market. Each fire has a glass panel at the front that pulls the heat from the fire bed and radiates it straight into the room, ensuring that no energy is lost in transmission. This means you will benefit from exceptional heat output as well as low running costs.
Inspiring versatility
Within the Collection by Michael Miller, there are four ranges of fire, offering a choice to suit any taste.
The Avelli Illumia and Boticelli Suite ranges offer contemporary elegance combined with traditional charm in a variety of dimensions to suit any room. The Florentine wall mounted gas fire is simple with magnificent energy efficiency. The Glimpse Duplex has a clean, modern look that will compliment sleek interior design.
Refined design
Every model in The Collection by Michael Miller Ripon is the product of a dedicated and thorough design process which is driven by some of the best minds in the fireplace and interior design industry. The fires are then made with intricate attention to detail in the state-of-the-art, UK-based manufacturing facility, ensuring top quality every single time.
Guaranteed reliability
Every fire in The Collection by Michael Miller Ripon is covered by a 25 year guarantee. The guarantee covers manufacturing and material defects. So you can rest assured that it will continue to serve you faithfully for at least a quarter of a century.
For the only UK showroom where you can see the full Collection by Michael Miller Ripon, come down to our Brighouse showroom. Offering inspiration, value for money, a professional workforce, dedication to customer service, and one of the biggest ranges of fireplaces in the UK. If you have any questions about Michael Miller Fires Ripon and the surrounding areas, please fill in the contact form and we will get back to you.
Fireplace Studio Brighouse
Old Crowtrees Garage,
Huddersfield Road,
Brighouse,
HD6 1JZ
T: 01484 402336
E: info@fireplacestudiobrighouse.co.uk