Although often contemporary looking, hole in the wall fires have actually been around for many years. The way fireplaces are being installed has changed thus increasing the popularity of hole in the wall fires. Hole in the wall fireplaces traditionally required a hearth to be mounted on the floor in front of the fireplace. Today however, selected designs have been officially tested and approved to be installed without the need for a hearth.

There are usually 2 main types of hole in the wall fires; gas fire insert units and self contained units. Hole in the wall fires are available for both Class 1 (typically brick built chimneys found in houses built before 1970), Class 2 (flue box/chamber connected to a 5″ internal diameter pipe or flexible flue liner) and Precast flue systems. For those who do not have a chimney, there are a number of wall fires available with a Power Flue or Balanced Flue option.
Most hole in the wall fires are positioned 3-5 feet above the floor on the wall, freeing up valuable floor space. Both modern and traditional homes can benefit from a hole in the wall fire as they make a dramatic statement.
Here are just a few of the hole in the wall fires we stock: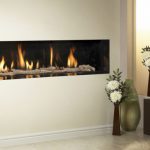 CARMELO HE GAS FIRE
The carmelo gas fire is large in size with enchanting flame picture. It's certainly a show-stopper and it provides exceptional performance too.
This hole in the wall fire is luxury combined with exceptional heat output. The viewing area measures 1145mm along and has a heat output of 6.5kW and 75% efficiency.
This fire can be installed almost anywhere in the home since it uses a balanced flue system with a choice of horizontal flue, vertical flue or chimney conversion flue kits available to choose from. Both log and white stone fuel beds are supplied with every fire.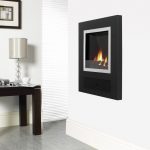 RIMINI GAS FIRE
The Global Rimini hole-in-the-wall gas fire is ideal for any contemporary home where space is at a premium. The compact, portrait design will fit beautifully into almost any chimney or flue, including pre-cast (BS EN 1858) and makes an attractive centre-piece without over-powering a room.
The Rimini is available in three models; coal effect with silver trim, pebble effect with silver trim or coal effect with brass trim.
This British made hole in the wall fire would be a great addition to both modern and traditional homes.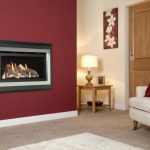 VERINE FONTANA HE
This hole in the wall fire is compact and designed for homes without a standard chimney and offers 84% efficiency.
The petite dimensions of the Verine Fontana HE Compact balanced flue gas fire make it perfect for smaller modern living areas. This stunning high efficiency hole-in-the-wall fire comes with a highly realistic log fuel bed and a stunning graphite grey and stainless steel fascia. It is operated by a thermostatic remote control system. A balanced flue model is also available.
We have plenty more hole in the wall fires available, call into our showroom on Huddersfield Road, Brighouse to view more.