Are you looking for electric fires in Wakefield and surrounding areas?
Here at the Fireplace Studio, we have an extensive range of premium electric fires on display from all the leading brand manufacturers. The electric fire market has moved on perhaps faster than any other sector of the fireplace industry. Many of our suppliers have invested in new technology to create some amazing innovative designs.
Hang on the wall electric fires
We stock classically designed hearth mounted models and the flame effects are so realistic that many customers find it difficult to differentiate between gas and electric.
Celsi fires
Celsi is a branded product of the BFM Europe Group and we are proud to be one of their main stockists in the North of England. A Celsi electric fire will be the heart of your home all year round. Every fire in the range has a "flame picture" only setting which allows the customers to enjoy an atmospheric glow even when it's too warm to turn on the heat.
All appliances come with a 2 year guarantee.
Dimplex
We are also very proud to be a Dimplex main stockist. Dimplex are the largest manufacturer of electric fires in the UK. As with all electric fires the installation of these products is easy and has none of the constraints associated with flue and gas connections and there's no need for annual servicing. You simply plug in and go!
Opti-V
The Opti-V fire is a virtual fireplace experience like no other. A perfect blend of magic and realism as it utilises the latest high definition technology to create flames and sparks in a three dimensional LED picture. With the addition of an audio element of cracking logs the illusion of a real fire is complete. The Opti-V is the most unbelievable flame effect yet.
Optiflame
Optiflame fires are the standard range of contemporary and traditional fires using the original and worlds best selling electric flame effect. These electric fires create the illusion of flames emanating from the centre of the fuel bed to provide a realistic glow that can be enjoyed throughout the whole year.
Opti-myst
If you're looking for a fire that surpasses all expectations for realism, we supply Opti-myst electric fires in Wakefield and the surrounding areas. These fires look deceptively real and captivate customers as soon as they see them. The full 3-D effect uses established ultrasonic technology to create an ultra fine water mist. As the mist rises up through the coals and logs, the light reflects against the water creating an illusion of flames and smoke. The result is so authentic it will be mistaken for true flames and smoke.
Evonic
Evonic has a vast range of low energy LED fires that have won many national awards for their creativity, design and realistic "Evoflame" effect. All fires have optional multi-functional remote control systems meaning you can operate the fires from the comfort of your armchair comfort of your armchair.
Valor
Finally, we supply the "Valor" range of fires which includes the world renowned "Dimensions" collection. These fires capture the realistic coal effect behind glass and is based on a 3D optical effect that is totally unique to these fires. You find numerous displays in our showroom to fully appreciate just how realistic these electric fires look.
[two_third class="" last="no" ]For electric fires in Wakefield and the surrounding areas, please come and visit our showroom and have a look for yourself. For any product or general enquiries please call 01484 402336, email info@fireplacestudiobrighouse.co.uk or fill in the form below:
[contact_form name="contact" ]
[/two_third]
[one_third class="" last="yes" ]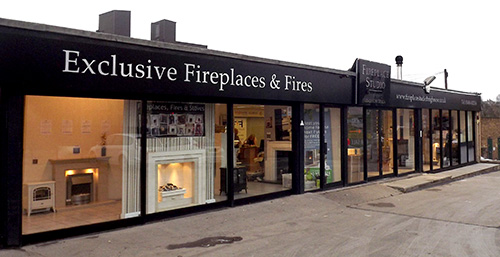 Fireplace Studio Brighouse
Old Crowtrees Garage,
Huddersfield Road,
Brighouse,
HD6 1JZ
T: 01484 402336
E: info@fireplacestudiobrighouse.co.uk